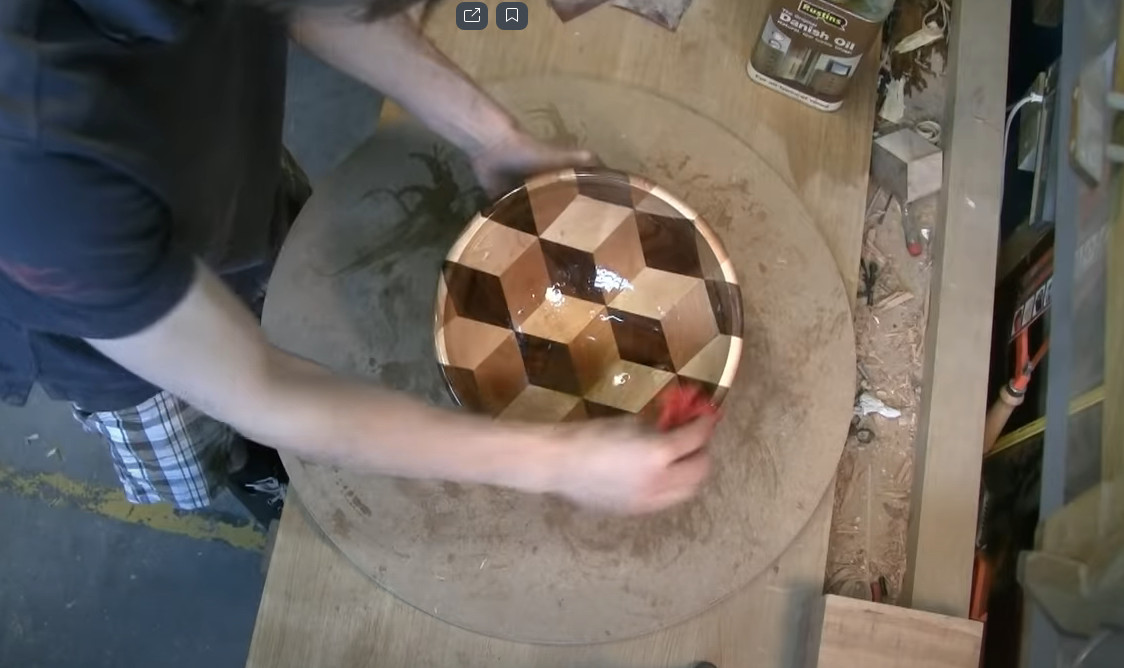 Cast your vote Russian Turning Miniature - 2020.

The intro of the article is a work of the artist Thomas Anton Geurts.
Perfection and harmony in miniature wood turning.

The call for applications for the Third All-Russian Miniature Wood Turning Competition has ended and the voting period has begun, and preparations are underway for the awards of the winners of this stunning competition.

Read about the 2019 competition here.

The first two contests showed that in Russia there are a lot of gifted and brilliant masters and self-taught people who are not alien to beautiful forms and perfect lines. If you flip through the albums for the two past competitions, it becomes immediately obvious that in 2020 the participants have shown unprecedented heights of skill in all respects.

Turners and artisans of Russia showed a virtuoso mastery of a lathe, they mastered the synthesis and mixing of technologies and materials. In addition, most importantly, the participants of the competition intuitively follow the rule of the golden section: proportions, shape, line, color - reveal and emphasize the integrity of the finished work of art. The masters follow the idea of the great Mark Vitruvius - "benefit, strength, beauty." Most of the participants in the competition sculpted their products for use, they are strong and durable, and the beauty of the lines and shapes is admirable.

One hundred and two masters presented their products to the competition. Among the participants of the competition, there are children and adolescents from 12 years old, as well as girls, women, men of mature age up to 80 years old. This year interest has finally awakened in the competition "Miniature Turning" in the creative community among professional wood artists. It cannot be said that the competition has become widespread. The competition is not discussed at every corner, and is not shown in the news of Russian Mass Media. However, it has become a landmark event in the creative professional communities of the post-Soviet space. Famous designers, artists, architects, looking through the competition works, are looking at individual authors of outstanding works, and the leaders of regional craft and creative associations would consider it an honor to have many of the participants in the competition.

I would like to note that the organizer of the competition, Petr Moskovtsev, made many efforts to attract the attention of the applicant participants to the design, format, and description of the competition works. In this, some of the companions of the volunteers assisted him. Many of the works did not pass the preliminary selection due to numerous violations of filing, size, poor photo quality and other reasons.

Until November 10, open and anonymous voting for works is going on. The works have a number. Voting is anonymous and no one knows the author's name. The organizers of the competition have simple programs that track the cheating of votes by the name of the IP address, by the number of likes per unit of time, anti-bot filters and other tools that, instead of cheating, lower the rating of this work as unfair competition. Therefore, the award will be fair, and the violators will simply leave the race without the right to participate in the next competitions.
The Assembly of Artists, Craftsmen and Craftsmen This year the Ah World Assembly on its two resources covers the work of the Miniature Turning competition and participates in voting and in rewarding the nominees. In the chat, WhatsApp АРТ Ассамблея Assembly Ah World there is a closed vote of professional artists. The voting results will be published on November 10, 2020.

The organizer of the competition Peter Moskovtsev from Novorossiysk speaks and writes. «… For the third year in a row, the All-Russian Miniature Turning Competition has been held, the origins of which were born in a small turning group of the VKONTAKTE social network. During these three years, a team of like-minded people from among the authors, sponsors, and lovers of turning art has gathered around the competition. From the very first steps of creating this competition, the companies Rubankov, Enkor, Zhivitsa, support us. Now this year companies JET and bryUkner-shop. ru have joined. We are actively promoting the idea of involving professionals from related fields of applied arts in the competition. We carry out active campaigning of interested people and involve them in voting in the competition. We actively welcome and expect professional assessment from masters who are not associated with the art of turning, but connected with creativity through the Ah World Assembly and through the Faculty of Art and Graphics of the Kuban University. I myself have been associated with creativity all my life, first as a photo artist, now I have completely gone into the art of turning. I believe that an artisan (in a good way) needs a buyer, and a creator needs a spectator. Therefore, at the end of the competition, the best works will be shown at a real exhibition at the Joiner's Festival in Moscow, where Rubankov regularly invites us. Only with the development of the trio, artisan - master - creator is it possible to advance the art of turning. Each trend from this trio is supported, and developed through other areas, of applied arts.

The competition is only approaching the level when the process of artistic creation of masters acquires some meaningful features. In previous years, the overwhelming majority of works were simply removed "from the dusty shelf". Now in 2020 there are works made specially for the Miniature Turning competition ...» End of Quote.

Petr Shatailo - artist, designer, wood artisan, heads the commission for counting votes and determining the nominees. The Ahmir website https://ahmir.ru/ presents all 102 works with a brief description of the work. The description is rather an encouraging, emotional, positive message with an advance for the future, so that the participants in the competition are encouraged and not offend. Therefore, epithets - brilliant, outstanding, wonderful, magnificent, stunning, excellent, breathtaking, inspired, sexy, dizzying, magical - will be more often than neutral or even negative epithets to works. Words - ordinary, everyday, ordinary, boring, will not be applied to works by definition. All works are good and all works are worthy of praise and respect.

What are the judges guided by and what is the benchmark-standard for the artists of the Assembly, who vote for this or that author?
What are the expert voices from the Ah World Assembly based on?

1. The master's eyes are accustomed to seeing harmonious line and classic works of art.
2. Mixing colors and halftones harmonious as nature itself.
3. Technological cyclist of the stages of material processing is visible to the naked eye.
4. Experiments of bold innovative solutions, previously unseen and impossible, are considered the main criterion for selecting winners.
5. Poor work does not mean that the author is not worthy of praise. This means that next time he will carefully read points 1,2,3,4.

Conventionally, the participants in the selection of winners divided all works into six categories. This does not mean that works do not move from one category to another. Until the end of the voting, the works will still migrate, but extremely rarely, since it is necessary to explain why this work is worthy of moving to another category.
Category 1 - brilliant.
Category 2 - Outstanding.
Category 3 - stunning.
Category 4 - is great.
Category 5 - inspirational.
Category 6 - is excellent.

So, a brilliant category, contenders for the very first nominations.
1 Table clock made of thermal ash. Borma oil.
A long-awaited job that has a chance to get into the cabin of the sea captain or the office of the Minister of River Transport.
11 Honey plate. d 18 cm, h 6.5 cm. 2020. Birch sticks, acrylic, American walnut, wenge, mahogany, finishing mastic.
Sweet work. An incredibly complex technique of preliminary work, preparation of materials, gluing, color matching, combination of shape and color. It is worthy to take a place at the main beekeeper of all Russia.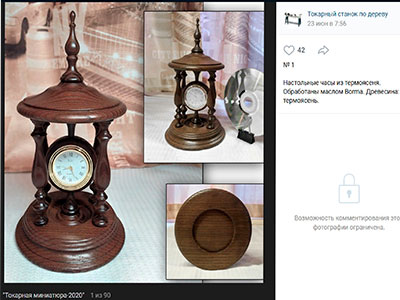 13 St. George vase thermos abash, hornbeam - emerald, black, pink; birch veneer, resin oil, finishing mastic. h 18 cm, d 8 cm 399 segments. 2020.
Gold work. This stunning vase combines high artisanship, knowledge of the material, high processing technology, refined taste. Quite deserves to be the Aerobics World Cup Award.
16 Vase. Iroko, American walnut, maple, wenge. Borma Hard Top Oil finish.
Amazing work. From the point of view of symmetry and a sense of three-dimensional space, the work delights with the careful selection and alternation of thin lines of inserts with wide tree petals, at the very beginning they pour glue with resin into a single whole. Then make a hollow vase and not be mistaken in the thickness of the chips.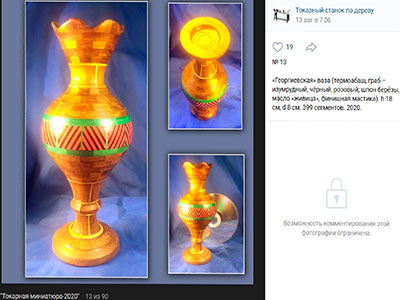 17 Amulet against coronavirus, on the car panel, comes to life when driving. Beech, paduk, amaranth. Varnish, enamel gold, KUDO.
Topical work in connection with Covid 2020. Simple work, but unexpectedly popular in concept and meaning, getting to the top of news feeds.
22 Bird in a cage. Beech, yachtoba, birch, mat lacquer.
Nightingale work. Quite difficult in composition and in assembling individual parts.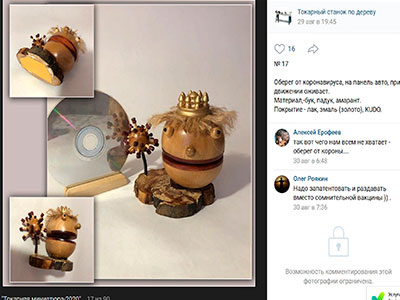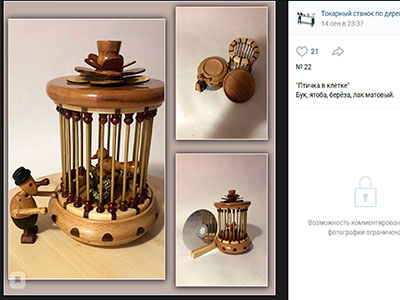 31 Mars rover. Beech, oak, thermal oak, jatoba, birch. Yacht varnish.
Extreme work. It is necessary to have the highest skill and imagination of the designer-artist to invent, implement, and assemble such work.
34 Vase. Ash material. Brushing, toning. Coating with water-borne Renner oil.
Enchanting and charming work with emotions. The master artist feels the form, line, silhouette and subordinates them to the content and meaning.

36 Ballerina - butterfly box. Walnut, maple. Oil.
Fluttering work. The illusion that it will take off now is so light. However, looking closer, you realize that the master is playing in an illusion.
43 Wood from left to right. Ofram, sycamore, African mahogany. Coating - Danish oil.
Fantastic work. There are no glues here. Each candlestick is an offset turning. Masterly work on a lathe without programming on a manual lathe. Rotation bodies are like rotation bodies of dancers-ballerinas on stage, each rotating in its own axis and in its own orbit. This is a multi-center, multi-axis, three-plane product. Three candlesticks in different axes, and do not repeat each other. Such a product claims to be a champion among champions.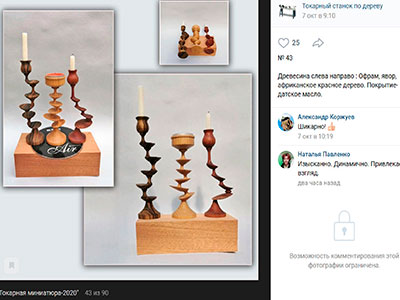 45 Cup-bowl. Beech, birch, paduk, jahtoba, yacht varnish.
Incredibly rhythmic work. You need to have a spatial imagination and glue different colors and types of wood into a single array in order to see the finished work of art at the finish line. This cup is worthy of praise.
86 Material - birch ties, hazelnut ties, ash.
Romantic work. A sensual silhouette and sophisticated lines are the secret weapon for influencing emotions. Here the master is like an artist with taste.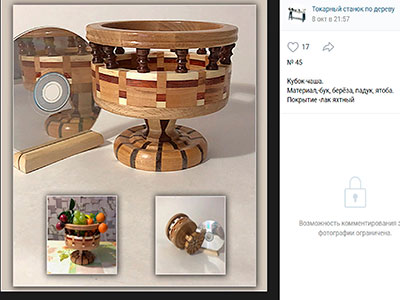 100 Casket. Maple cap, rowan cap. Beitz tone, Zhivitsa oil, carnauba wax.
Fabulous work. In a fairy tale, everything should be mysterious and magical with an attractive force. Curbing color, shape, line, wrapping it in understatement and presenting it in perfect form without wrapping - only a magician can do this.


Thirteen works in the first category. In addition, they all deserve the title of the best work. Moving on to the second category - outstanding.
Category 2 - outstanding work.

2 Vase. Young oak, wax Liberon.
Stylish work done in imitation of the best examples of ancient culture. A sense of style is inherent in the master in giving a laconic, classical form to the vessel.
9 Box Chocolate mood. European walnut. The base of the cap of the elm cap. Coating with Tung oil.
Chocolate work. If the master does not deceive and there is chocolate inside, this is a worthy reward for the winner of the "I am a chocolate bunny" competition.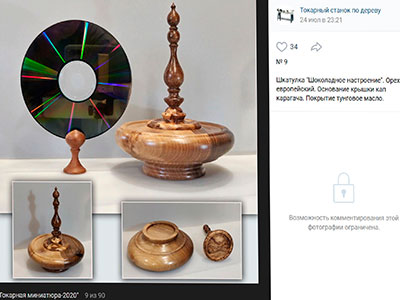 21 VASE. Oak, Beech, ash, thermo ash, iroko, American walnut, teak. Borma oil.
Awesome work. Stunned by the number of glues, by the amount of wood, stunned by the time spent and the excellent result.
23 Table clock made of birch and thermal ash, covered with Zhivitsa oil.
Contrast work. Black and white stripes, squares, circles and columns give the watch the classic look of black and white art. However, everything should have a sense of proportion.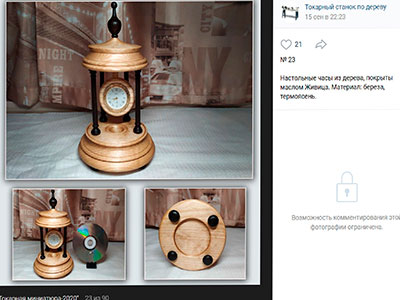 24 Alder, plum, Martyanov wax.
Exciting work. As creativity and inspiration comes in waves, the master artist tries to capture the waves rolling in and inspiring.
40 Vase Chaos. Abash, thermos abash, American walnut, finishing mastic. h 15 cm, d 13 cm.
Existential work. Axis displacements, triangles, trapezoids, squares of carpenter's competence for carpentry waste existential to an unpredictable result. High technology.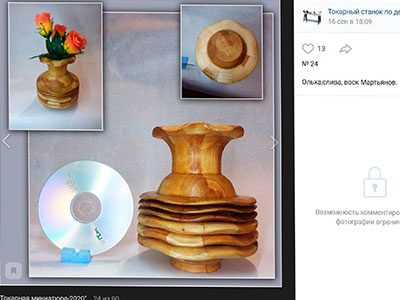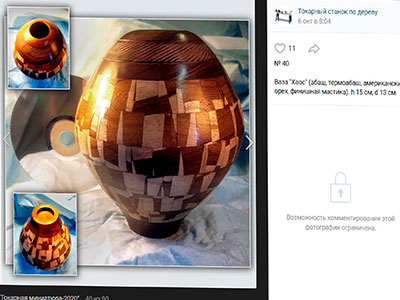 47 Let's dance. Wood, acrylic paint. h14 see 2020.
An eccentric job. Dynamics and expression are inherent in any eccentric, as in this work. Axis displacement at every stage of machining is the highest aerobatics of the art of turning. Bravo to the master.
55 Oak, juniper, birch, varnish. H 12cm. Varnish.
Fun work. The author in the gallery of works presented a whole series of bodies of revolution assembled into a single cheerful design. Bravo.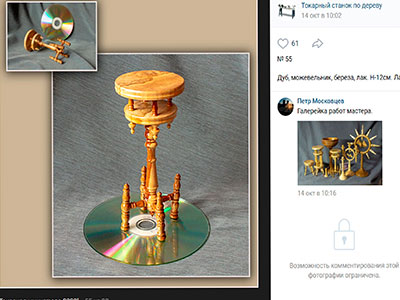 56 A copy of the decorative rack. Juniper, birch. H 120 mm. Varnish. Cheerful number 2.
57 Miniature of a decorative rack. Oak, larch, birch. H 13.5 cm. Varnish. Cheerful number 3.
59 Composition Bird of happiness. Oak, aspen. H 240 mm Varnish. Pine bird. 60 70 mm. Merry number 4.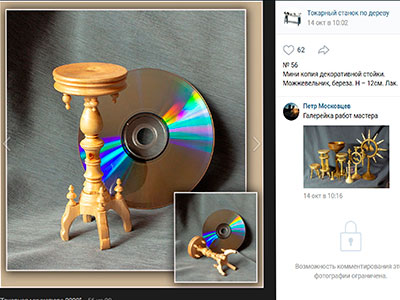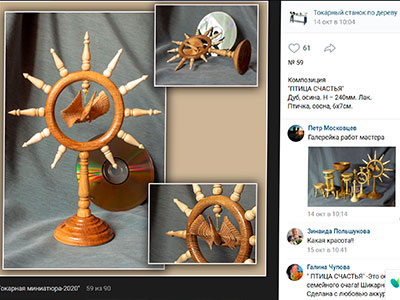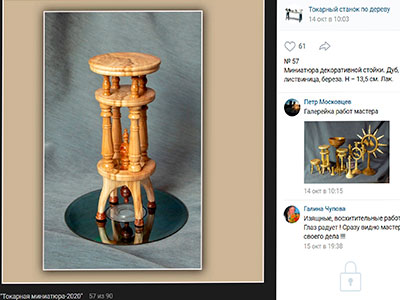 60 Rings of Saturn. Hornbeam. Sphere - poplar burl + epoxy resin. Diameter 170mm, thickness 6mm. Sphere diameter 70mm.
Space work. The author has a rich imagination and space-based woodworking technique. Class.
61 Box turtle. Oak, walnut, Wax Watco D 7, H 3.
Gift work. The combination of techniques and wood mixing makes this work a very good and unexpected gift.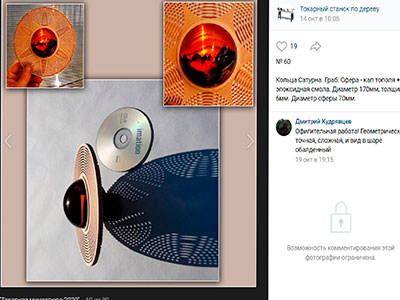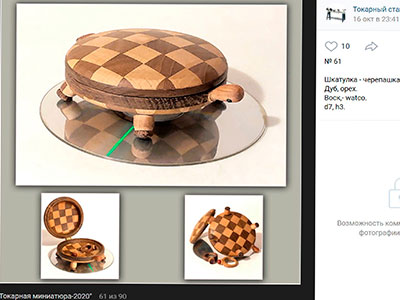 63 Bottles. Materials American walnut, apple tree, scoopia, beech, bird cherry. Liberon wax coating.
Relaxing work. Although the master did not have a sweet tooth during his work, as he had to combine the incompatible, the result exceeded expectations and you can relax.
64 Kettle. All solid wood.
A wonderful teapot. The artisanship of woodworking on a lathe requires concentration of attention and spatial imagination so as not to confuse the handle with the spout and the bottom with the lid when the work piece rotates. Respect to the master.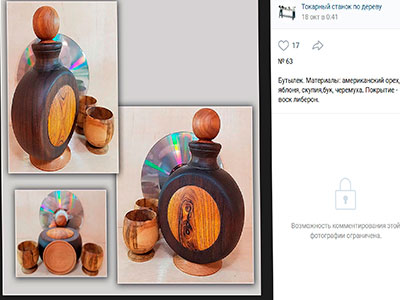 72 Decorative glass. Paducah, tung oil.
Sensual glass of love. The displacement of the axes during rotation is always a high aerobatics of woodworking. The master handled it. Trustworthy.
78 Casket. Apple tree, bog oak, copper. Tikkurila varnish, glossy.
Shiny box. It is not enough to make a hollow vessel; it is necessary to give it shine and chic. Finishing a product is a high aerobatics of taste and style.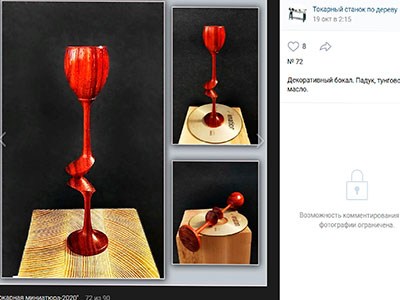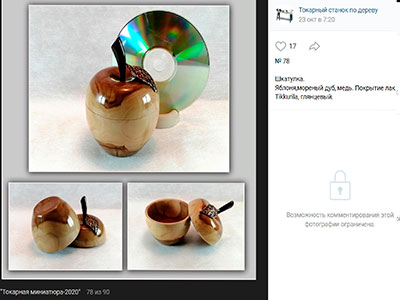 79 Mini flask made of suvel and birch burl.
Delicious work. The flask is completed, with taste and a sense of proportion. The emptiness of the flask is puzzling as to how this is completed. However, it was completed perfectly.
80 Wood - walnut, covered with mineral oil.
Floral work. At the first apparent simplicity, the work is performed flawlessly in the alternation of raw wood and cylindrical girdle rings.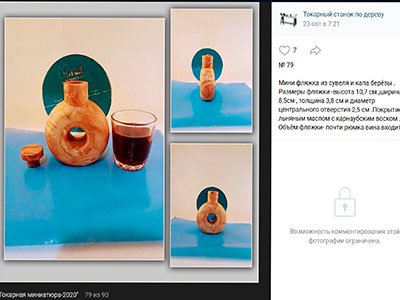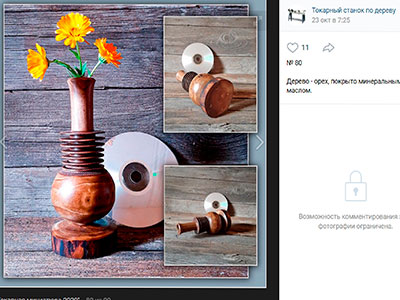 87 Spalt birch, elm. Covering - Liberon wax.
Bright work. Harmony in the ratio of the bottom, the vessel, the top of the sharp peak, as well as the combination of colors.
88 Three vases and an egg, carved from birch hairpin, birch deadwood.
Spectacular work. Three vases with an egg are the effect of comparing shapes and lines. The master managed to make an effect.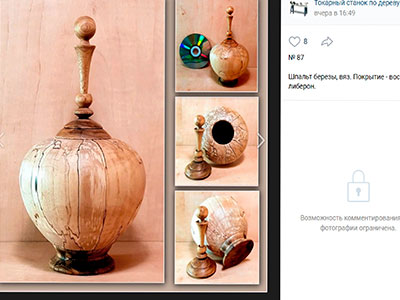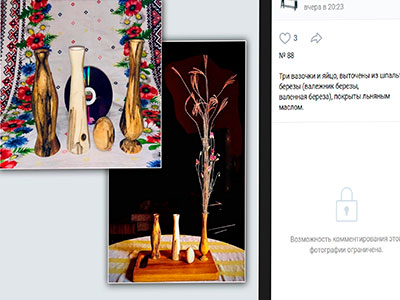 90 Box Merbau Boxwood D. 140 mm W 140 mm H 170 mm. Teak oil, carnauba wax.
Lunar work with many meaningful and multifaceted concepts of perception and associations. The author expresses his versatile universal mind and state of seeking content in form.
93 Casket. Maple cap toned beitz and wenge. Diameter 175 mm, heights 70 and 170 mm, teak oil and shellac finishes. Elegant work in form and content. No omissions or meaningful symbols were found, which confirms the integrity of the author as a master and artist in one person.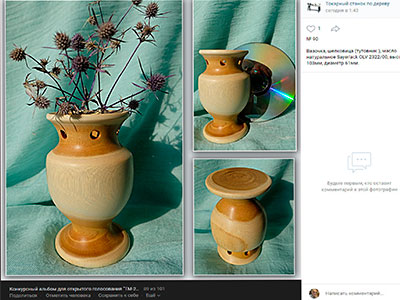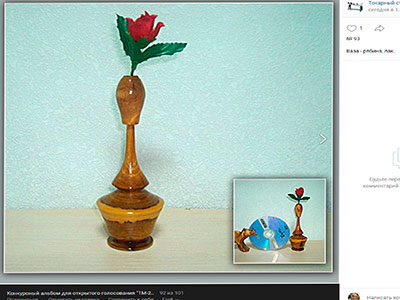 97 Casket Merbau Boxwood D. 140 mm Ø. 140mm H 170mm. Teak oil, carnauba wax.
Lunar work with ambiguous and multifaceted concepts of perception and associations. The author expresses his versatile universal mind and the state of content in form.
98 Casket. Maple cap toned beitz and wenge. Diameter 175 mm, heights 70 and 170 mm, teak oil and shellac finishes.
Elegant work in form and content. No omissions or meaningful symbols were found, which confirms the integrity of the author as a master and artist in one person.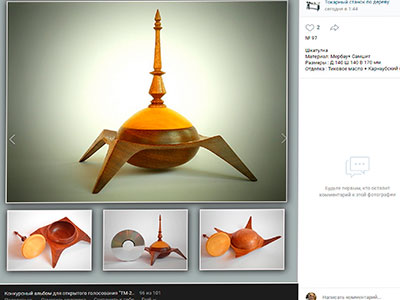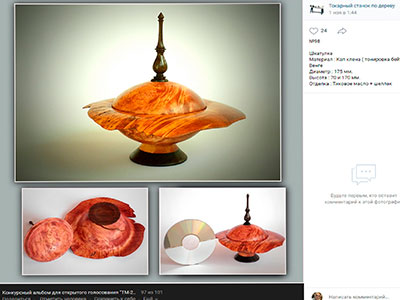 The second category is over. Only 25 works and all outstanding works.

Category 3 - stunning.

3 Hollow form. 50 shades of ash. Ash. Tung oil.
Amazing work, but if you carefully count the top and bottom, you can easily find 22 shades of ash, but not 50 shades. Write exactly in grams and in quantity.
19 Globe - Big and Small Homeland. Oak, alder, thermo ash, ash veneer, coated with linseed oil.
Authentic globe. If you look for associations and images, authenticity with the globe does not arise the first time, but after the ball, kettlebell, shell, shell. However, this does not diminish the significance of the work, but increases.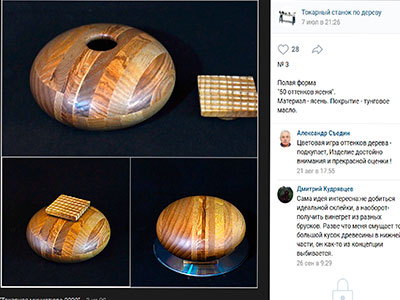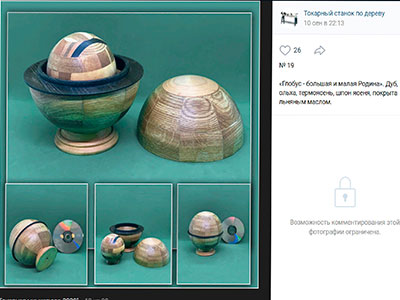 20 Cup. Amaranth, thermo ash, linseed oil.
Little egg. The most cherished things are hidden in the pod like bins and in a stash, so the color is bright, catchy and the shape is attractive.
29 UFO box. Silver loch, maple, walnut, ash. Maslovosk.
Attractive UFO. By synthesizing materials and mixing technologies, an unusually attractive UFO shape with familiar outlines is obtained. Apparently, this is our genetic memory with the master, where we came from.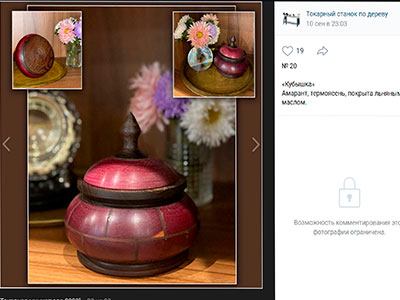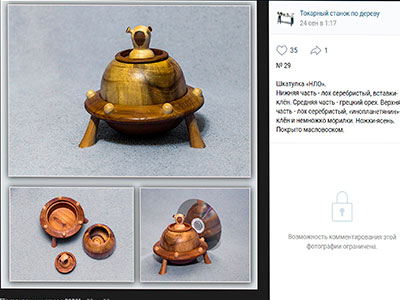 46 Vase Firebird. Wenge, Layswood, painted hornbeam.
Painting work. Large color spots of feathering of a bird's heat and small dots of a color kaleidoscope differ in the same way as the size of each rainbow-colored arc from the size of the petals of blue, yellow, red, white tulips. Size matters.
48 Rocking bowl is a literal rocking bowl. Birch, furniture oil, olive pigment.
Technical work. Tech does not mean tech. Virtuoso does not mean artisan. The combination of manufacturability, technicality, craft skills and mastery of the instrument lead to versatility. Either two in one or three in one. Alternatively, just one.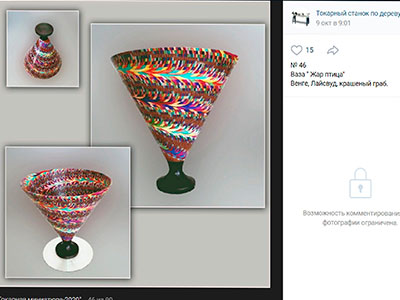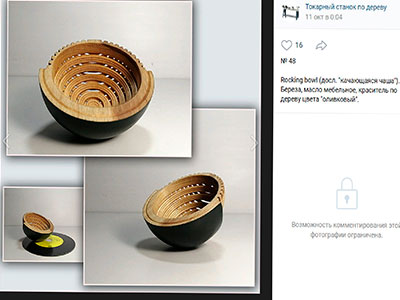 49 Ash, brushed. Coated with Osmo oil.
Smoothly fluid work. The fluidity and smoothness of the lines in the bodies of rotation are subject to the master who has the skills to keep the incisor in a smooth line, since the temptation of the incisor, eye and hand is great to cut off a smooth line. Great willpower is needed to keep the hand in a smoothly flowing line. Great respect to the master for willpower and firm line.
52 Easter egg birch, stain, lacquer one-piece product, without gluing.
Angelic work. It is incredibly difficult to adhere to the criteria of moral, traditional, Christian applied art. The master does it masterly. Praise to the master.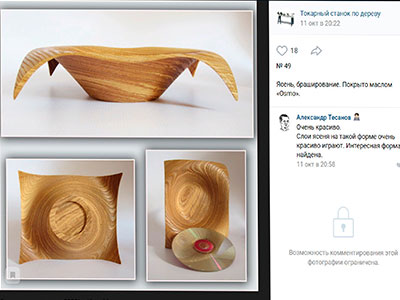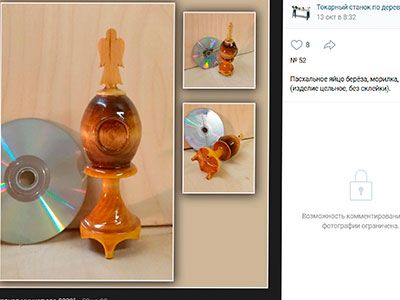 68 Box for toothpicks No. 3. The material is birch and apple, treated with linseed oil.
Dazzling work. Quite practical, unitary light work, done with dignity and taste.
70 Box for toothpicks No. 2. The material is birch and apple, treated with linseed oil.
Family work. Apparently all family members are united by something in this work, either whiteness, or sharpness, or adherence to some rituals and habits.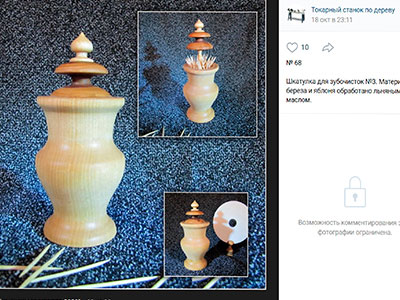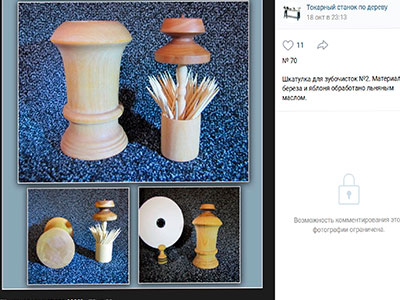 81 Rowan box, oil. Witchcraft work. The upward curved wings are oriental motifs, and all sorcery comes from the East, carrying enchantments, hops vapors, fogging the mind, depending on the volume of the box. The master did not want to make a cavity in the vessel, leaving only a place for a pinch of salt.
83 Elm. Coating - oil wax Borm. Candy work. For candy and candy, quite a decent job. Moreover, if you put a portrait of the master next to them, then the children will be afraid not to carry sweets, because they are harmful.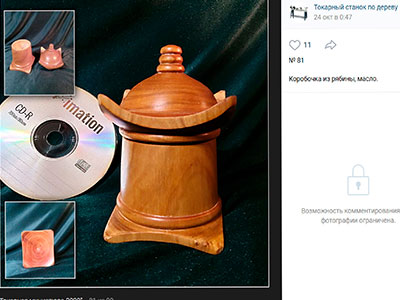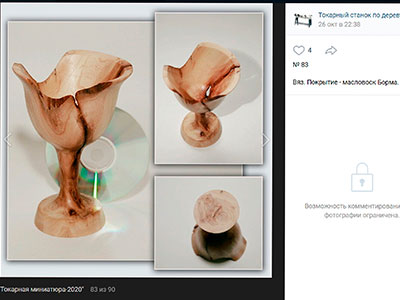 89 Vase made of apple and ash, shellac lacquer finish. Enthusiastic work. Delight in sweets.
92 Sugar bowl - wild apple tree, varnish. Satisfied sugar bowl. To be content with a piece of refined sugar is the same modesty and asceticism, as to be content with one gyrus, or one curve. However, sometimes a piece of refined sugar saves life, and one correct horizon line fixes the master's line of residence.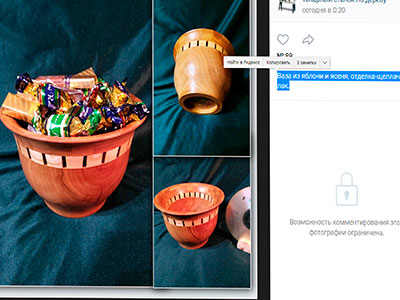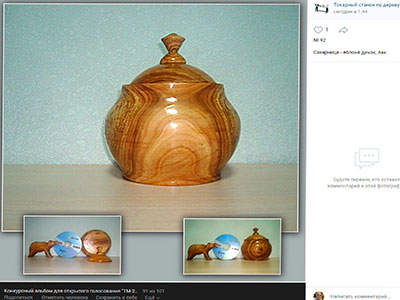 96 Sugar bowl made of bird cherry spallet, lid and top of mountain ash, oil.
Profitable sugar bowl. Arrival does not mean income, just as profit does not mean income. Nevertheless, this profitable sugar bowl sets its owner immediately for profit, since the master still has a hundred of the same pieces in stock, which will be sold like fried cakes, bringing income.
99 Casket The Last Ronin. Boxwood, Wenge. D. 170mm, H. 145mm. Teak oil, carnauba wax.
Last job. There is always something last. Fight, Mohican, Ninja, Hero, Work. Nevertheless, this is a marketing move, followed by the penultimate one, and then there is a remake, then a clone, then a miserable semblance of the original. Nevertheless, there are exceptions to the rule.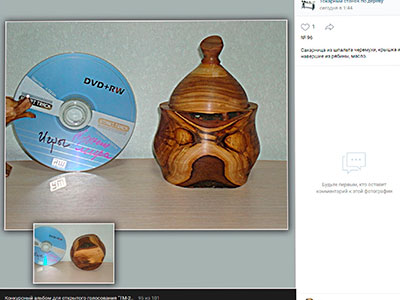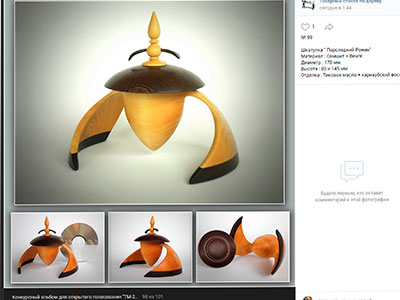 The third category has ended. Total of 16 works.

Now the fourth category is great.

5 Oak. Oil Zhivitsa. Enthusiastic work. Delight comes when you mentally draw a more elongated top and a crown with a crown.
7 A small vase with a bird. Rowan material, covered with oil.
Hypnotic work. The line and shape of the vase correspond to the familiar from childhood appearance of a cricket with milk or a «glechik» with sour cream, which is a hypnotic state of nostalgia for childhood.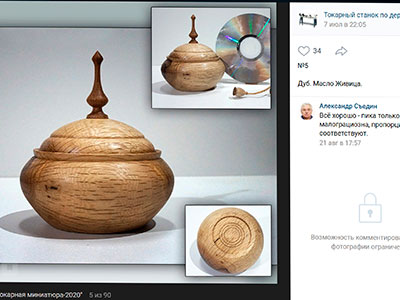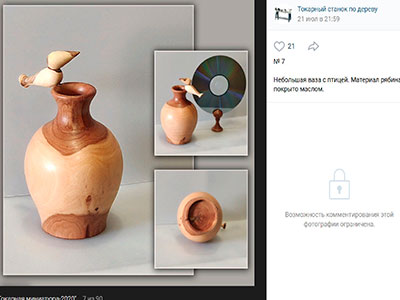 8 Japanese-style vase on a stand with a natural edge. Material oak, oiled.
Tempting job. Everything is harmonious in work - form, color, line.
37 Bowl made of birch suvel, oil wax. Correct work. Everything in this work is laconic and correct.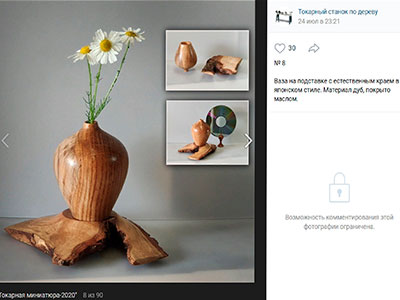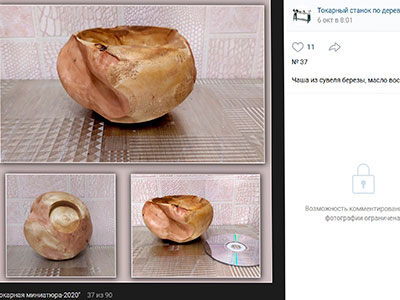 39 Bowl made of birch suvel, oil wax. Easy work. Ease in everything.
44 Vase made of burl outgrowths from an ash-tree leaf maple, tinted, covered with wood oil.
Excellent work with good taste.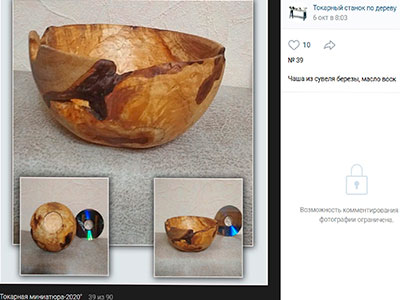 65 Walking gobies, carved from linden and birch. The bell is also made of birch. Painted with acrylics and varnished.
First-class work and first-class bulls for the first-grader of the master.
73 The Magic portal of Oblivion The magic portal of oblivion. Lao rosewood cap figurine - sapele, furniture oil, liberon wax.
Positive work from the word "put where you got it".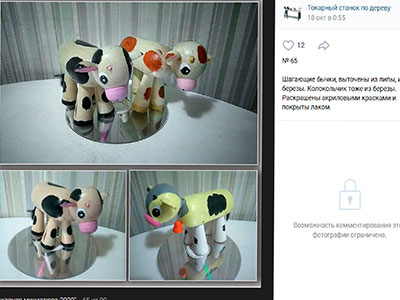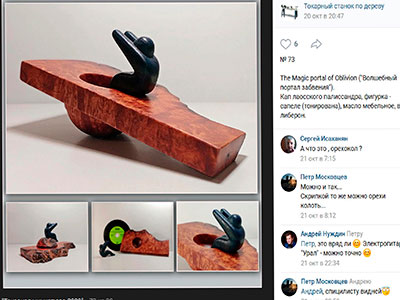 74 Cap of American Maple, oil. Festive work. Master, if he donates this work for nothing, it will be a holiday.
75 Jewelry box for grandparents. Alder, birch, beech, jatoba. Linseed oil.
Granny's work. From the word granny. Granny is never beautiful, graceful, young, fashionable, and modern. However, like the author.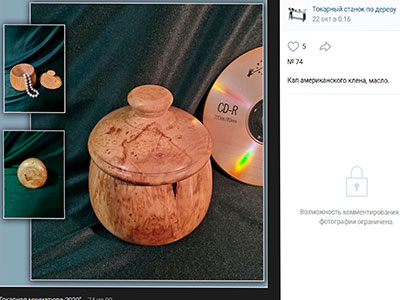 82 Sugar bowl. Borma oil Oak, beech. Sweet work. If you talk sugar for a long time, your mouth will not become sweeter. If you look at the sugar bowl for a long time, it will become bitter from the wasted time.
91 Box, American walnut, Sayerlack OLV 232200 natural oil, height 68mm, diameter 91mm.
A stately pot with a lid. Multifunctional. Apply as directed at any time of the day.

102 Collective participation of a group of turners from Chuvashia. Masters are 12 and 15 years old. Part of the collection is presented. A total of 20 works were submitted. Explanatory work. From the word pound water in a mortar. If you do not crush water in a glass with a crush, then there is nothing to do? Watch antique vases and amphorae and copy them.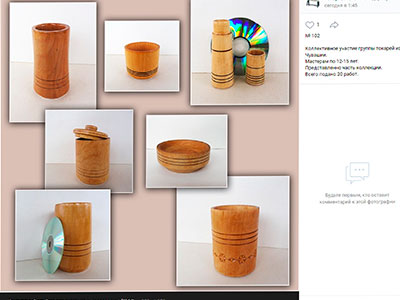 There are 13 works in total in the 4th category.
Category 5 - inspirational.

10 Linked wings. Plum, waxed tourniquet. Tung oil with hard wax. Enchanting work. If you squint your eye, you can see an enchanting corset, or squint the other eye - wings. In addition, if you both screw up? The master and the spectator - then an extravaganza.
15 Hollow shape Rye bun. Oak. Cyanoacrylate, furniture oil, Liberon wax.
Free work. The work is free from form, content, line, color, meaning and author.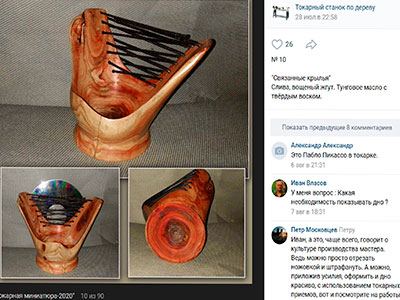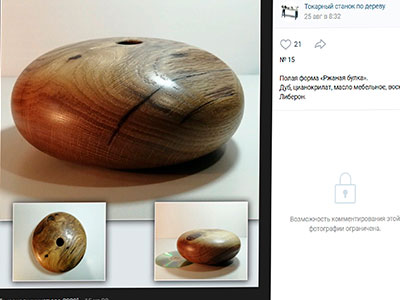 18 Thin-walled hollow form. Birch, furniture oil, Liberon wax. The work is amazing. Not from the word of rogue, and not from the word shalom, but from the word LOM.
32 Hollow vase. Material poplar, American walnut. Coating - Belinka interier oil.
Prize-winning work. The prizes are different. Major League, Minor League, First Grade, Elementary, Preschool.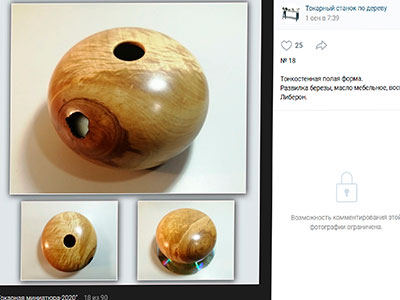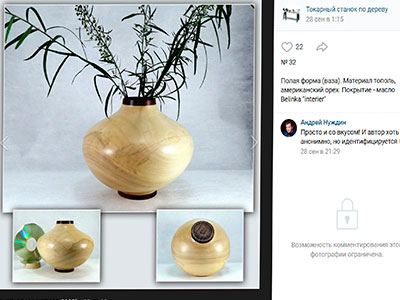 33 Vase. Ash material. Brushing, toning. Coating with water-borne Renner oil.
Advanced work. From the word move, move, move, out of sight.
35 Vase. Birch burl. Oil. Wax. Fabulous work. The tale is read quickly, but it is not done quickly. The deed was done quickly, and the story about the case was long and boring.

41 Vase. Maple, apple tree. Burning. Tikkurila varnish Watco oil.
Gallant work. Exquisitely polite, kind, courteous with material and incisors.
50 Casket. Oak, toning, shellac. Impressive work. From the word pose. In whatever position you put her - she looks the same.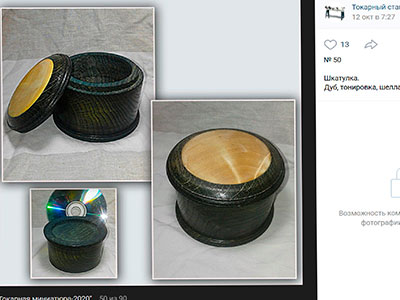 51 Vase alder, stain, varnish. Spicy work in all respects, exciting sensuality, seductive, like a tipsy woman.
54 Vase alder, watercolor, varnish. Stunning work. It knocks down the imagination, knocks down the mind and any thought about work.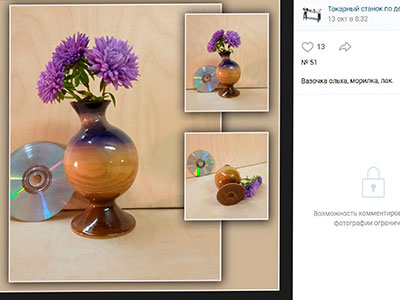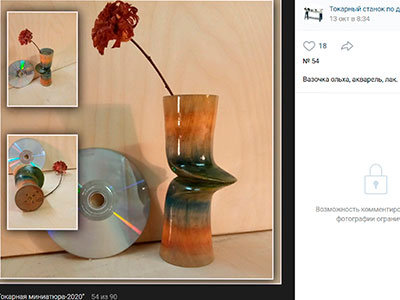 62 Kisselnitsa. Miniature of the Novgorod form of the XIII century. Alder, varnished. Priceless work. Work that has no price for material, imagination, artisanship, lathe and master cutters.
67 Bottle stoppers. The material is cork, apple, birch, spruce, treated with linseed oil.
Brilliant work. From the word gene. A hereditary factor that carries information about a specific feature or function of an organ, instrument, material, genus, individual.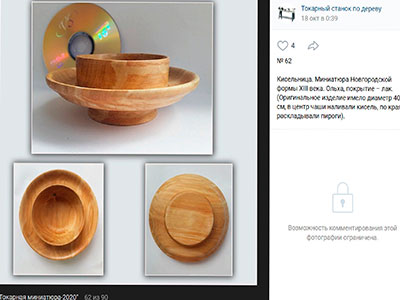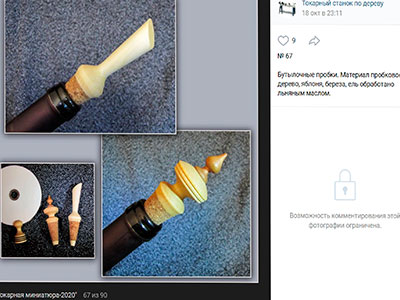 69 Jar for tea or sugar Tower. Linden, treated with linseed oil.
Hussar jar. From the word goose, gander, goose, goslings. The jar is functional.
85 Vase, natural rim with bark. Acacia. Oil.
Fascinating vase. From the word wrap up and throw away.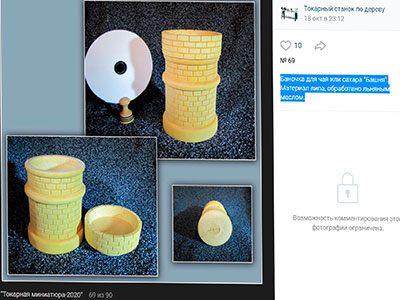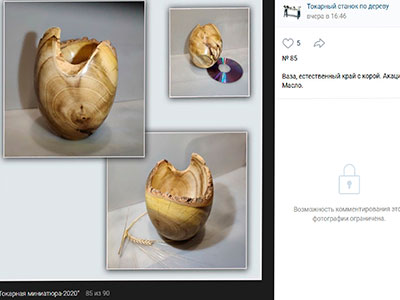 94 Apple salt shaker, without varnish and oil - only grinding.
Creative saltshaker. And the salt is creative, and the chisel and the machine are creative, the fingers and feet are creative. In addition, ears.
101 Material, oak, beech, apple tree. Great job from others. Excellent simplicity, uncomplicatedness, lines, imagination, experience and skill.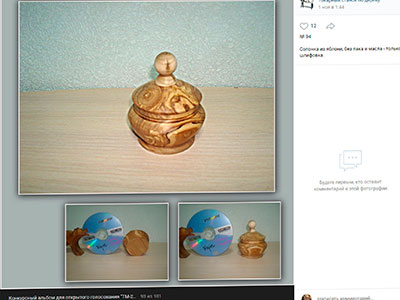 There are 16 works in the fifth category.

Category 6 is excellent.

4 Oak. Oil Zhivitsa. The work is winning. From the word Game. Playing soccer, for example.
6 Ash, mineral oil coating. The work is outlandish from the word wild.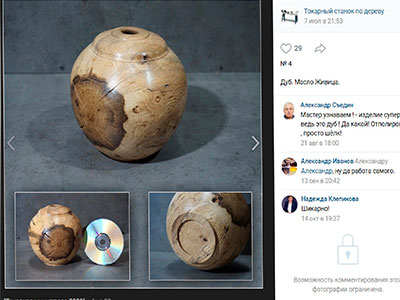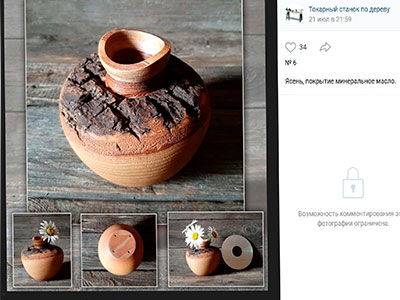 12 Hair clip. Made of rosewood, covered with beeswax mixed with linseed oil, silver chain insert.
The work is exciting. Grips are divided into torso grips, belts, handgrips, leg grips, head grips, grasping a chisel and a tree with inept hands.
14 Bowl. Apple tree, acrylic, sap oil, finishing mastic. h 6.5 cm, d 14 cm. 2020. Famous work. Celebrity comes from endless repetition, duplication, copying matches, spoons, mugs, and downloading "works of authorship."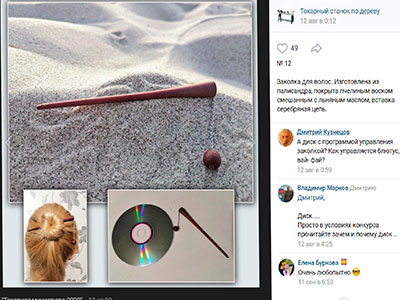 25 Coffee mug, elm, oiled, June 2019. Ingenious work. Creative imagination, engineering and inventive ingenuity made it possible to embody one small circle with a watering can and one large circle without a watering can.
26 Ashtray, sea buckthorn root, epoxy resin, h 34, d 110, oiled. Good job. From the word paint. Paint and cast.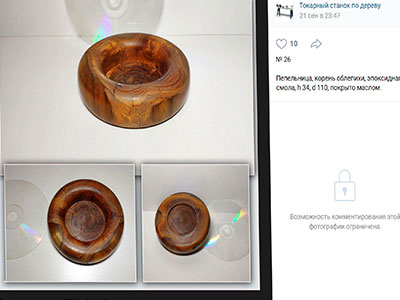 27 Shiloh, alteration of the handle from a regular awl from the Bison, sea buckthorn, epoxy overheated specifically to achieve increased bubbling, l total. 97, l handle 70, d 36, oil-coated.
Exciting, aerial work. Misapplication means excitement and flutter in the air if pricked at the right point in the butt.
28 Small vase. Ash, exotic tree. Kridezeit oil. Outstanding work. Posing as someone, he really is not. Impostor.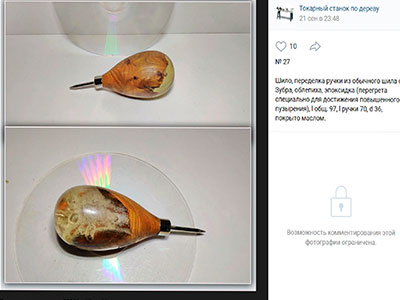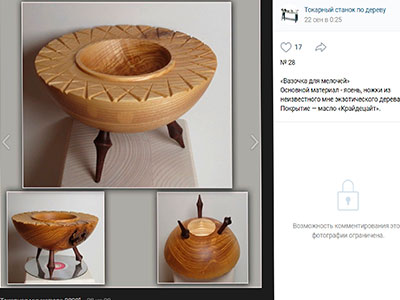 30 Casket. Pear, birch souvel. Varnish. Perspective job. In retrospect and in perspective, the author and the work have the prospect of a century of excellence.
38 Ash plate. Oil, wax. Fascinating work. The prisoners were given small bowls to work. The master needs to give food to this bowl.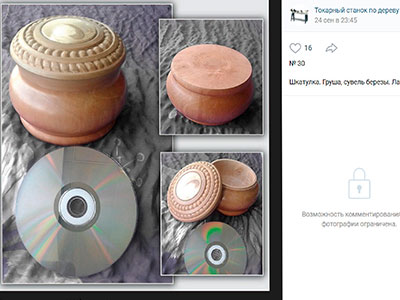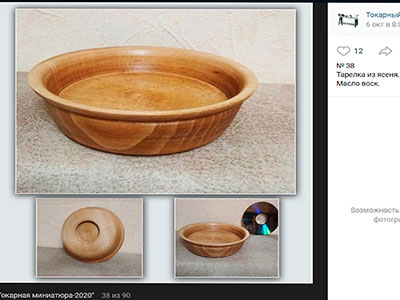 42 Roasted oak bowl. Coating oil Borma. Unique work in two rings and on fire. Primitive man never dreamed of such a thing. As well as the master.
53 Alder, stain, varnish. Champion work. From the word flower peony. Peony contains yang energy - self-confidence, audacity, rivalry, envy, bombast, complacency, clumsiness.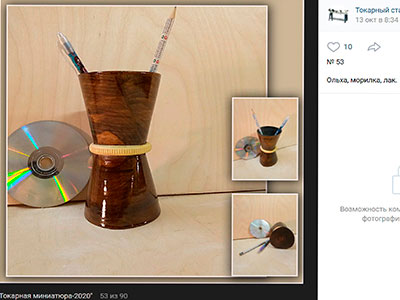 66 Box for toothpicks No. 1. The material is birch and apple, treated with linseed oil. Crazy work, crazy, crazy. Crazy simplicity and plague master.
76 Autumn leaf. Ash-leaved maple, wenge. Tung oil.
Cool job. There are steep mountains, a steep tongue, eggs, nose, mother-in-law. Cool eggs from the master.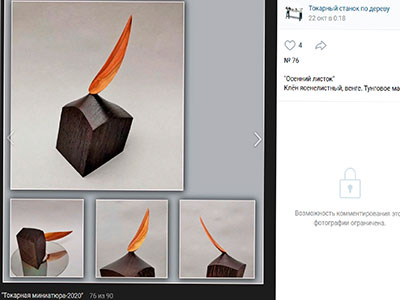 77 Box, stain, varnish. Rich work but with a shallow bottom.
84 Apple tree. Oil. Wax, boron. Excellent work from the word lyapot, bast shoe. Lapotny master.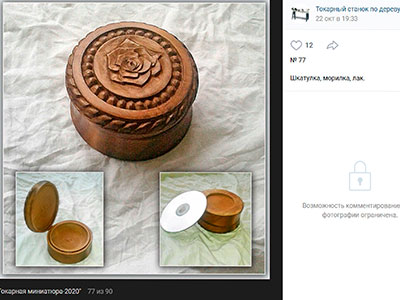 90 Thin-walled hollow form. Apple tree, cyanoacrylate, furniture oil, Liberon wax. Incredible work from the word do not believe your eyes. So the author thinks so that no one would believe that this is not a masterpiece.
95 Serving saltcellar made of birch spal with mushrooms, oil.
Favorite work from the word thief who stole a still life with mushrooms from nature.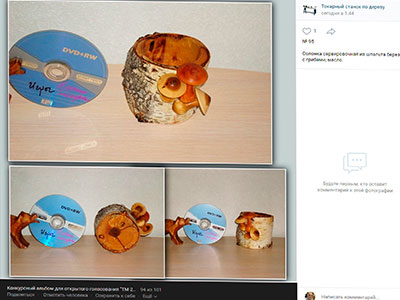 18 works in the sixth category.

As the description suggests, there is a huge difference between the first category and the sixth category. Nevertheless, there is a subtle difference between the first and second categories, just as between the fifth and sixth categories; you will not notice the differences even in half hints.

So where is that yardstick, that standard?
Where is the model to be followed?
Below are examples of high art.

Choosing the shape, profile, bending line of the product, the artists take the high antique art as the standard. The lathe only repeats the line that the miniature lathe artist conceived.

If an artist of turning art examines the profile of a Greek amphora or a Russian jug, he will see that these lines are similar to the appearance of a beautiful feminine girl. Each pitcher has its own hips and slender waist, neck and ankle. The sculptors did not forget the architects of turning miniatures to emphasize the navel of their creation, which is located on the line, which by called the "golden section". Therefore, in the manufacture of this or that jug or vessel, amphora, the muse for the master of turning art is precisely the image of a mother or wife, beloved girl or daughter. If we turn to the etymology of the name of the Georgian vessel, it means the mother-jug in translation.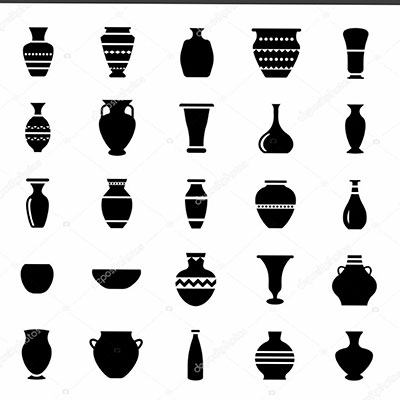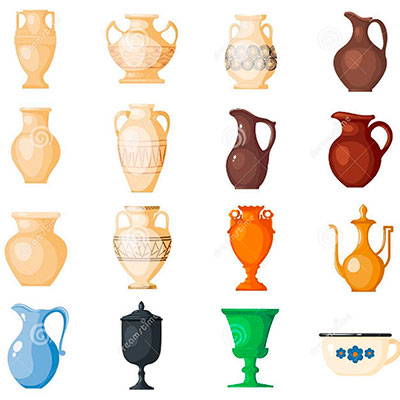 Form and color are a single whole, contained in the content and name of the object.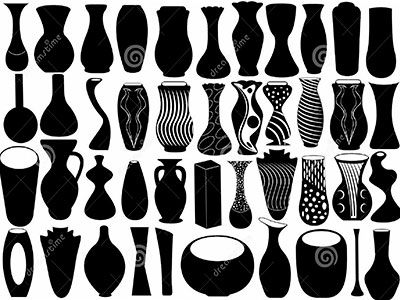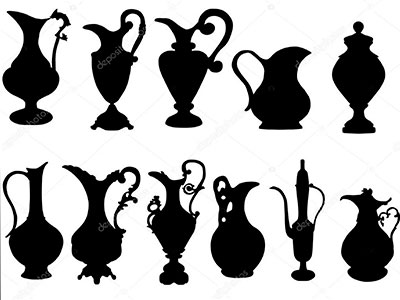 Choosing between modern forms, lines, silhouettes and classic (old) forms, the miniature-turning artist follows his intuition and his creative style, the author's handwriting.
Thus, he reveals and shows his inner world through the emotions of seeing, touch, pleasure for the audience.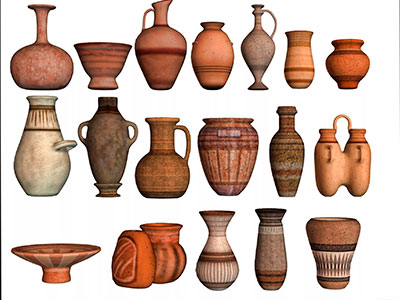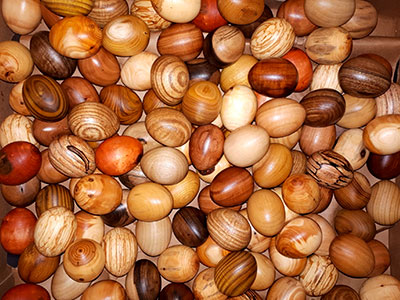 There is the concept of "dirty color, faded color, dull color, indeterminate color". The miniature lathe artist works with solid color, clean line and golden ratio.

A hint for seekers.

Social networks and Internet resources where you can borrow samples of high art.

Groups and communities on FACEBOOK. International and Russian groups "The art of woodworking on a lathe".

Creative Woodturning Pristina Kosovo. Administrator Bekim Ramadani.
Woodturning Italy Administrators Marco Bevilacqua Cristina Marsi
Wood turning
Woodturners Market admin Doug Scharf
The Fine Art of Woodturning Colorado ADMIN Cindy Drozda, Адрес электронной почты защищен от спам-ботов. Для просмотра адреса в вашем браузере должен быть включен Javascript.
Woodturners' Journal Las Vegas Jerrod Toth, Ellyn Chantos
American Association of Woodturners. Minnesota. Адрес электронной почты защищен от спам-ботов. Для просмотра адреса в вашем браузере должен быть включен Javascript.
Woodturning Connection Ohio, Tom Hale, Thomas Stegall
Utah Association of Woodturners Utah USA admin Mark Huber, Ruthann Gibbs
Wood Turners Facebook Community admin Morgan Nichols
Florida Wood Turning Symposium Canceled Feb 2021
Eastern Maine Woodturners Адрес электронной почты защищен от спам-ботов. Для просмотра адреса в вашем браузере должен быть включен Javascript.
WOODTURNING: MAKERS, BUYERS & WATCHERS Admin Thomas Dean Silver Jr
Wood Turning for beginners group France
Woodworking-ideas
Woodturning world
Wood Working & Identification admin Raymand Landry
Academy of Fine Arts
Art Gallery
Woodturners Worldwide
Wood Working & Identification
Etienne Morin Woodturning Canada Адрес электронной почты защищен от спам-ботов. Для просмотра адреса в вашем браузере должен быть включен Javascript.

ARTESANOS del PERÚ y del MUNDO Peru
All Kinds Of Wood Turning Australia Admin Villy Vinny Pat Keefe Photo Album Mixing Materials and Technologies
https://www.facebook.com/groups/156735514517714/media
COMMUNITY of WOODWORKERS COMMUNITY of WOODWORKERS Lyon France.
Woodworking
Woodworking - a million ideas
藤 沼 哲 Satoshi Fujinuma Japan
藤 沼 哲 ウ ッ ド ア ー ト ブ ロ グ Wood Art Blog Satoshi Fujinuma Japan
Woodworking Projects
Wood Turning, Garden Craft & Art.
Woodworking DIY Plans & Projects

Toczenie w drewnie
Just wood
https://auction2020.woodturner.org/
https://www.woodturner.org/
https://www.youtube.com/watch?v=QCfLQ4bIO0c 2019 Woodworking Association of America Artists Exhibition.
https://www.youtube.com/watch?v=i0aNETdn6sw pencils 23 787 649 views
https://www.youtube.com/watch?v=6HSgDGLEswE Globe 8 856 417 views
https://www.youtube.com/watch?v=BAe2kIVJ0QI Three-dimensional dish with illusion 9 011 041 views
https://www.youtube.com/watch?v=0EDF4g7xpEM Burl Mug 52 221 364 views
Russian groups and communities FACEBOOK,
Wood carving tool for woodworking
Wood carving for everyone
Shop "Wood carving for everyone"
DIY wood carving.
Wood carving tool for woodworking
Wood turning
WOOD PROCESSING COMMUNITY - exchange of experience.
Peter Moskovtsev
Igor Perfiliev's joinery practice
Wooden furniture and decor

The material was prepared by Nikolay Matvienko, a graduate of Nazareth College.
05 November 2020